Whilst there's a lot of good talk these days about self reflection and evaluation, I can't help but wonder if we were to get to know ourselves better and sought to understand what makes other people tick, life could and would be so much easier. With the benefit of R.I.P., this is my 'take' on Retrospect, Introspect and Perspective, a vital stage I believe in letting go and moving on to make sense of what should be a simple process!
Of course it can be hard work.  Good things take time and great things even longer. One of my sisters says I think too much and perhaps she is right.  Personally, I see it not so much as 'thinking', more a case of 'processing'. Never reflecting denies me the opportunity to do things better. I've learnt to love having the opportunity to look at things from a different perspective, to try to understand how things look from someone else's standpoint – especially if there's been an unresolved issue and let's be honest here, we all have a few of those.  When I look at what's happened, how I handled something, I wouldn't say I am brooding or being over analytical, just as objective as I can be about what actually happened.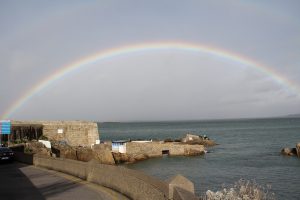 According to Myers-Briggs, I am an ENFP, at this stage of my life I am it seems, falling true to type, that is to say enjoying more time to myself, quiet time. So is this being introspective?  If I can do this effectively, I'd say it is more about being able to competently and more confidently share experiences, my experience with the benefit of hindsight, perspective and the benefit of learning.
As with all forms of personality profiling, if we were to 'boost'our social/interpersonal skills, be more curious about other people rather than chasing the clock, giving a focus on what really matters, then perhaps, just perhaps, we'd all have a better perspective on life.
But there again,I guess  it depends on what you expect to see at the end of your rainbow!
to find out more about yourself, google away…  here's one I found
https://www.16personalities.com/enfp-personality